SOLAS Marine Tape 1, 1.5, 2, 3 & 4 inch
Click To Enlarge
Item #: SOLAS 1,1.5,2,3,4
SOLAS - "The Toughest and Brightest Tape on the Market"
Very Strong Adhesive! Will stick to almost anything!

Reflexite FD1403 - 8 mil thick, flexible, UV stabilized, weather-resistant polymeric film with prismatic retroreflective elements. Designed to withstand the harsh marine environment and extreme cold.
IMO Type I and II certified
Meets USCG requirements for SOLAS (Safety of Life at Sea).
Our flexible SOLAS tape is specifically designed to increase the visibility of life jackets, ring buoys, survival suits, buoys, markers, rain suits, back packs, jackets and a variety of other objects in marine and land environments. It is also very popular for motorcycles and bikes due to its extreme reflectivity.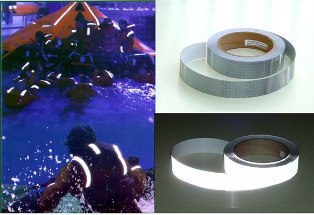 1" x 10ft - $15.99
1" x 20ft - $28.99
1.5" x 10ft - $18.99
1.5" x 20ft - $32.99
2" x 10ft - $21.99
2" x 20ft - $38.99
3" x10ft - $30.49
3" x 20ft - $52.99
4" x 10ft - $38.99
4" x 20ft - $69.99
1st Class Shipping Included

To order longer lengths of SOLAS at our affiliate store, Click Here



---
To order reflective shapes and reflective letters at our affiliate store, Click Here


Share



---
Make your selection using the drop down window below.
Cole Safety Best Values
Customers also bought these items!