Reflexite V92 - 1.5 inch - Letters/Numbers
Click To Enlarge
Reflexite V92 Reflective Letters/Numbers
FREE SHIPPING!
6 Colors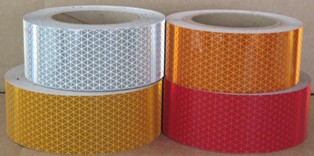 Reflexite V92 reflective performance exceeds glass bead technology sheeting
by as much as 10 times.
It is comparable to a type 5 tape.
Light is reflected via micro prisms making the tape much brighter
than glass bead type tapes.
V92 tape carries a 5 - 7 year outdoor rating.
The microprismatic retroreflective tape is designed for rugged outdoor use on the sides and rear of trucks, trailers, school buses, farm equipment, automobiles and all types of mobile and industrial equipment.
The tape is not more than 0.008 inch thick and comes with an aggressive high-tack pressure sensitive adhesive.
Material should be applied to a smooth, clean, dry, surface at temperatures ranging fro 50F to 100F. is very bright and very durable.
It is easy to apply tape and far exceeds the 1995 National Standards for School Buses, ASTM D4956-94, Type V, FMVSS 217.
Flash pictures of the six colors below.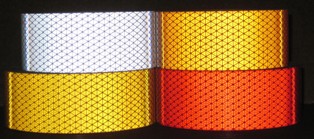 1.5" letters are $2.49 each
1st Class Shipping Included
---
Make your selection using the drop down window below.
Cole Safety Best Values
Customers also bought these items!